Teaching Painting to Adults and Children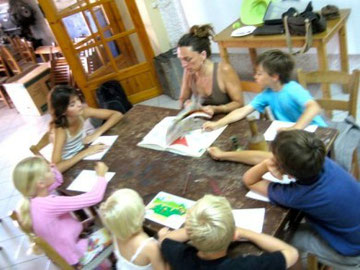 I conduct seminars called "drawing and perception" for all ages and all levels of ability. The idea is that everyone can draw, paint, or tell a story by simply seeing things in a different way.  It's a great way to de-stress the spirit and build confidence no matter what backround you come from!
I have nothing specifically scheduled for the moment but typically I put together two and threeday workshops for up to 5 people at a time.  
Day one - At my house going over some drawing exercises and building an awareness of composition and shadow.
Day two- we look over how these skills are applied using color, hopefully ending with a small still life.
On day three we meet somewhere wonderful on the island and see how our perceptions respond to working outside.
I've slated a time frame of 9am until 1pm with some coffee and cake at half time, and group people according to thier stay on Kythera so dates are flexible. 
The price is 30 euros per person, per day. You're welcome to bring your own materials but I can supply a basic pack that covers all the lessons for 15 euros so there's no struggle for those coming from overseas.
You're welcome to email me with any questions.